Hoops Rumors is breaking down the 2021 offseason for all 30 NBA teams, revisiting the summer's free agent signings, trades, draft picks, departures, and more. We'll evaluate each team's offseason moves and look ahead to what the 2021/22 season holds for all 30 franchises. Today, we're focusing on the Oklahoma City Thunder.
---
Free agent signings:
Note: Exhibit 9 and 10 deals aren't included here.
Mike Muscala: Two years, $7MM. Second-year team option. Re-signed using non-taxpayer mid-level exception.
Paul Watson: Two-way contract.
Trades:
Draft picks:
1-6: Josh Giddey

Signed to rookie scale contract (four years, $27,214,807).

1-18: Tre Mann

Signed to rookie scale contract (four years, $14,047,213).

2-32: Jeremiah Robinson-Earl

Signed to four-year, $7.89MM contract. Third year non-guaranteed. Fourth-year team option. Signed using non-taxpayer mid-level exception.

2-55: Aaron Wiggins

Signed to two-way contract.
Draft-and-stash signings
Vit Krejci (No. 37 pick; 2020 draft)

Signed to four-year, minimum-salary contract. Second year partially guaranteed. Third year non-guaranteed. Fourth-year team option. Signed using non-taxpayer mid-level exception.
Contract extensions:
Shai Gilgeous-Alexander: Five years, maximum salary. Projected value of $172,500,000. Projected value can increase to $207,060,000 if Gilgeous-Alexander earns All-NBA honors in 2022. Includes 15% trade kicker. Starts in 2022/23.
Departing players:
Moses Brown
Al Horford
Sviatoslav Mykhailiuk
Other offseason news:
Hired Nick Collison as special assistant to general manager Sam Presti.
Salary cap situation:
Remained over the cap and below the tax line.
Carrying approximately $78.1MM in salary.
$23MM below salary floor.
Hard-capped at $143MM.
$3,110,742 of non-taxpayer mid-level exception still available ($6,425,258 used on Mike Muscala, Jeremiah Robinson-Earl, and Vit Krejci).
Full bi-annual exception ($3,732,000) still available.
Two traded player exceptions available, including one worth $12.8MM.
---
The Thunder's offseason:
Two years after initially launching their rebuild by trading Paul George and Russell Westbrook, and one year after sending Chris Paul to Phoenix, the Thunder entered the 2021 offseason in no rush to speed up the process.
Armed with a ton of potential cap room and a massive stash of future draft picks, Oklahoma City could have begun cashing in its chips and taken a significant step toward contention this summer. However, general manager Sam Presti made it clear he's still very much in asset-gathering mode and won't be rushed into pushing for the playoffs quite yet.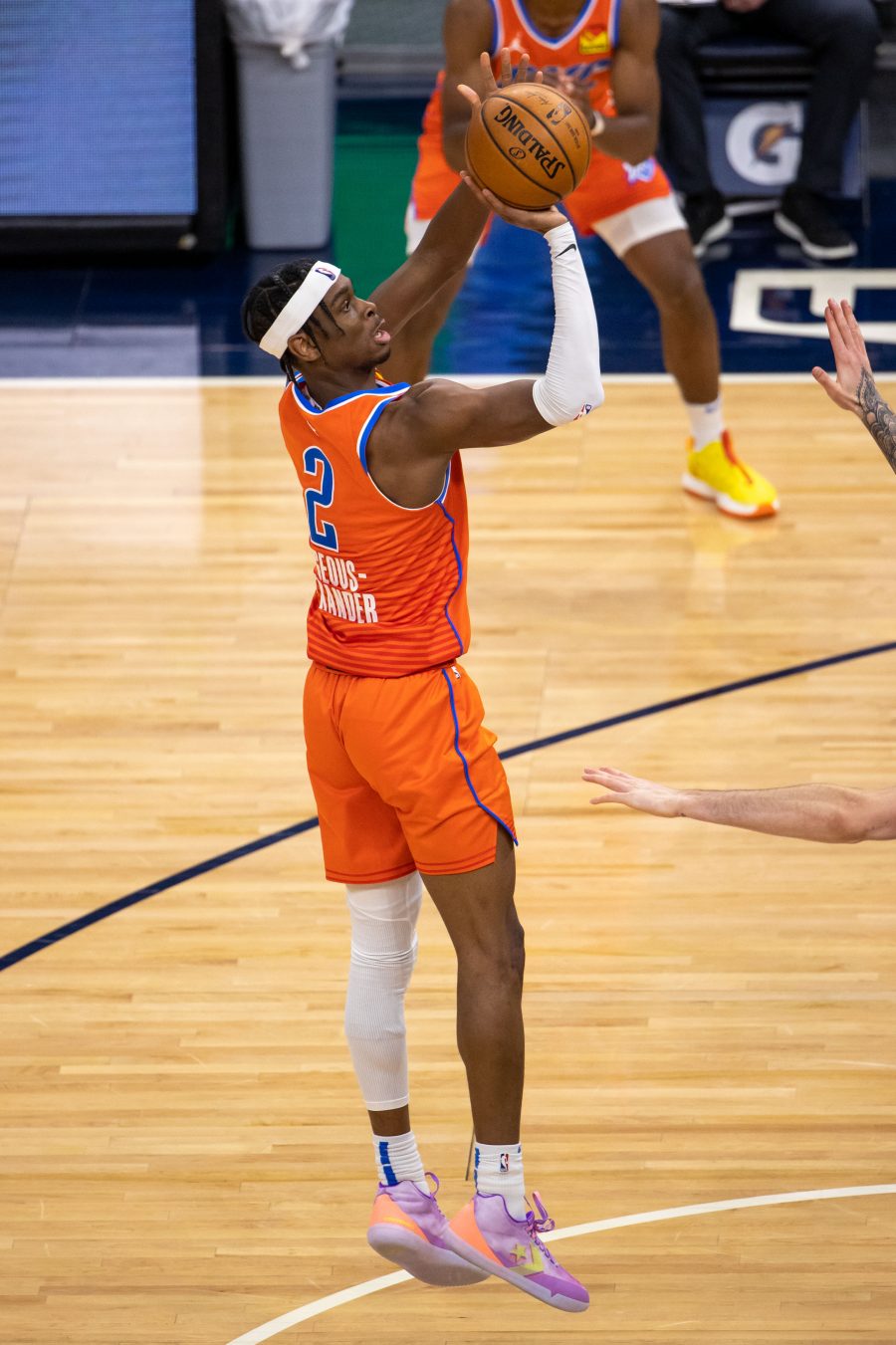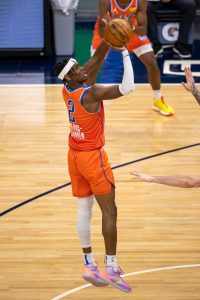 The approach makes sense. The Thunder have one potential future All-Star in Shai Gilgeous-Alexander, who received a maximum-salary extension from the team in August, but none of the team's other young prospects have displayed that sort of upside yet. Oklahoma City will also still have cap flexibility for years to come even after accounting for Gilgeous-Alexander's lucrative new deal. And the team owes its lottery-protected 2022 first-round pick to Atlanta — that obligation will turn into two second-rounders if OKC keeps its 2022 first-rounder. In other words, it would be premature for the club to push all its chips into the center of the table so soon.
That meant the Thunder were happy to accommodate a couple more salary dumps this offseason, securing extra first-round picks from Boston and Utah for taking on Kemba Walker and Derrick Favors, respectively. Oklahoma City also avoided free agency nearly entirely — its only non-two-way signing was an inexpensive short-term investment in Mike Muscala, a trusted veteran who will provide leadership but won't make much of an impact on the team's win-loss record.
Given Presti's patient approach, it was a little surprising that the Thunder were willing to complete a buyout with Walker shortly after acquiring him from the Celtics. He seemed like a candidate to be the club's next Paul — a star point guard who could rebuild his value after an injury-plagued season and could eventually be flipped for another bad contract and another draft pick.
Still, the decision to complete a buyout early was justifiable for a few reasons: Walker was willing to give up a significant chunk of salary (about $20MM over two years); the franchise wanted to show it treats its veteran players well; and Kemba might've compromised the quest for another top-five pick by making the team a little too competitive.
Conversely, the decision to trade this year's 16th overall selection for two heavily-protected future picks was a perfect example of the Thunder's willingness to play the long game. Rather than selecting promising big man Alperen Sengun, Oklahoma City accepted a Pistons first-rounder that may not convey for several years (it's top-16 protected in 2022, then top-18 protected in 2023 and 2024 before becoming top-13 protected in 2025), along with a lottery-protected Wizards 2023 first-rounder that's also at least two years from turning into anything concrete.
It's entirely possible – perhaps likely – that Sengun will be a better pro than the two players eventually selected with those future picks, but for a Thunder team focused on accumulating assets, the deal made sense. Turning one first-rounder into two helps ensure that OKC's pile of future assets will be well-stocked when the team eventually wants to cash them in. It's just not that time yet.
The Thunder did use their No. 6 pick to select Josh Giddey, an intriguing young point guard who came off the board a few spots earlier than expected. The fact that Oklahoma City wasn't willing to pick up more assets by trading down a little and hoping Giddey was still available is a reflection of how much the team likes him.
It's still too early to know what Oklahoma City has in Giddey, but he flashed his real upside in his third career game on Sunday when he filled up the box score with 19 points, eight rebounds, seven assists, and four steals. The Thunder are going to lose a lot this season, but it'll at least be entertaining watching Giddey and Gilgeous-Alexander play together in the backcourt and imagining what they could look like two or three years from now.
Tre Mann, Jeremiah Robinson-Earl, and 2020 pick Vit Krejci are among the Thunder's newly-added rookies. The Robinson-Earl selection was a sign that the organization is prepared to consolidate its assets in order to land a player it likes — OKC gave up the 34th and 36th picks to move up just two spots to No. 32 to snag Robinson-Earl. We can probably expect more moves along those lines in years to come, since the Thunder control way too many future picks to realistically use them all.
---
The Thunder's season:
The Thunder are off to an 0-4 start this season, putting them dead last among the NBA's 30 teams. It's probably safe to assume they'll remain in that spot – or pretty close to it – for most of the season. This just isn't a team that's built to win yet, and the front office will be happy to pile up the losses and secure a high lottery pick in the 2022 draft while assessing its young talent and starting to determine which players are keepers.
The most pressing question in Oklahoma City this season isn't how the team will perform on the court — it's what moves will be made off it. The Thunder remain well below the salary floor for the 2021/22 league year, which means they'll almost certainly be looking to take on more unwanted contracts in midseason trades. There should be a handful of clubs looking to either get out of luxury tax territory or reduce their tax bill, and the Thunder are well positioned to help out more than one of them, procuring a few more future draft picks for their cooperation.
The Thunder's extreme approach to asset-gathering may feel like overkill, but the more ammunition Presti stockpiles, the more leeway he'll have to take big swings down the road when the club eventually pivots to playoff contention.
---
Salary information from Basketball Insiders and Spotrac was used in the creation of this post.