With the offseason trades of Chris Paul and Dennis Schröder last fall, the Thunder officially transitioned from playoff contention to full-scale rebuild.
The team added four first-round picks and multiple second-round picks through deals for Paul, Kelly Oubre (acquired from the Suns in the Paul trade), Danny Green (acquired in the Schröder trade), and other maneuvers, while adding one of the highest-upside rookies in the draft class, the very raw Aleksej Pokusevski, along with solid second round pick Theo Maledon.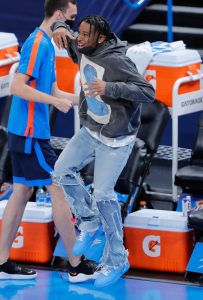 An injury limited star point guard Shai Gilgeous-Alexander to just 35 games, while last season's breakout rookie Luguentz Dort was also in and out of the lineup due to injury. Finally, the team made the decision to bench Al Horford for the second half of the season to allow the young players more minutes and opportunity.
All these factors contributed to the Thunder having their worst year since the 2008/09 season, when they went 23-59 and were rewarded with the third pick, which they used to draft James Harden. The Thunder will hope for similar lottery luck this summer.
---
The Thunder's Offseason Plan:
After making a surprise move to trade Horford, former undrafted center Moses Brown, and a 2023 second-round pick for Kemba Walker, the 16th pick in this year's draft, and a 2025 second round pick, the Thunder are in an unparalleled position to make a trade, either for a disgruntled young star, or to move up in this year's draft.
They have five picks in the top 36 of this year's draft, including three top-2o selections, and have 18 total first round picks over the next six years. They also will be able to swap the 18th pick for the Rockets' pick this year if it drops out of the top four (there's about a 48% chance this will happen). Their own pick has a 45% chance of landing in the top four. It's unlikely the Thunder will use all six of their picks in this year's draft, making them a prime candidate to make more trades.
Walker, the lone veteran on the roster, stands as a clear target to be moved, either in a draft-day trade or as part of a separate deal in free agency. Walker is owed nearly $74MM over the next two years, assuming he picks up his 2022/23 player option, but he can still be a dangerous scorer and play-maker, despite a down year.
---
Salary Cap Situation
Note: Our salary cap projections are based on a presumed 3% increase, which would result in a $112.4MM cap for 2021/22.
Guaranteed Salary
Kemba Walker ($36,016,200)
Shai Gilgeous-Alexander ($5,495,532)
Aleksej Pokusevski ($3,113,160)
Darius Bazley ($2,513,040)
Ty Jerome ($2,412,840)
Theo Maledon ($2,000,000)
Luguentz Dort ($1,782,621)
Kyle Singler ($999,200) — Waived via stretch provision.
Patrick Patterson ($737,066) — Waived.
Admiral Schofield ($300,000) — Waived.
Total: $55,369,659

Player Options
Team Options
Non-Guaranteed Salary
Gabriel Deck ($3,676,852)
Kenrich Williams ($2,000,000)
Isaiah Roby ($1,782,621) 1
Charlie Brown Jr. ($1,701,593)
Total: $9,161,066

Restricted Free Agents
Tony Bradley ($5,277,669 qualifying offer / $10,626,180 cap hold): Bird rights
Sviatoslav Mykhailiuk ($2,079,826 qualifying offer / $2,079,826 cap hold): Bird rights
Total (cap holds): $12,706,006

Two-Way Free Agents
Draft Picks
First-round pick (cap hold TBD) 2
No. 16 overall pick
No. 18 overall pick ($2,901,240) 3
No. 35 overall pick (no cap hold)
No. 36 overall pick (no cap hold)
No. 55 overall pick (no cap hold)
Extension-Eligible Players
Shai Gilgeous-Alexander (rookie scale)
Isaiah Roby (veteran)
Kemba Walker (veteran)
Unrestricted Free Agents / Other Cap Holds
Mike Muscala ($1,669,178): Early Bird rights
Deonte Burton ($1,669,178): Early Bird rights 4
Norris Cole ($1,669,178): Non-Bird rights 4
Nick Collison ($1,669,178): Bird rights 4
Raymond Felton ($1,669,178): Early Bird rights 4
Total: $8,345,890

Offseason Cap Outlook

The Thunder have the flexibility to go in a number of different directions this offseason, but the most likely outcome – at least to start the offseason – is that they operate as an above-the-cap team in order to retain their many trade player exceptions, as well as the mid-level and bi-annual exceptions.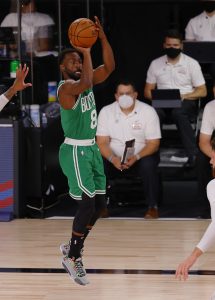 Williams, Roby and Deck all played well for the Thunder this season and seem likely to have their contracts guaranteed. The cap hold for the Thunder's first first round pick is likely to be in $5.5MM-$8.3MM range. If the Thunder want to use cap space to throw a lucrative offer at a restricted free agent, they will have to renounce their exceptions.
Much of their cap situation will revolve around whether they're able to unload Walker's money to a team that needs a point guard — the Knicks stand out as one team with a need at the position and the cap space to absorb him without needing to send major money back to OKC.
The other big question facing the Thunder is if they can come to terms with Gilgeous-Alexander on a max rookie scale extension. If so, he'll likely command a five-year, maximum-salary contract that would pay him a projected $167MM+ and would run until the 2026/27 season.
Cap Exceptions Available
Mid-level exception: $9,536,000 5
Bi-annual exception: $3,732,000 5
Trade exception: $27,528,088
Trade exception: $12,800,000
Trade exception: $10,100,000
Trade exception: $9,590,602
Trade exception: $1,517,981
Trade exception: $908,960
Trade exception: $865,853
Trade exception: $850,600
Trade exception: $332,940
Footnotes
Roby's salary becomes fully guaranteed after August 4.
The Thunder's own first-round pick is lottery-dependent. It could end up anywhere between 1-8.
The Thunder could swap this pick for the Rockets' first-round pick if Houston's selection lands at No. 5. There's a 47.9% chance that will happen. In that scenario, the cap hold for the pick would increase to $6,593,040.
The cap holds for these players remain on the Thunder's books from prior seasons because they haven't been renounced. They can't be used in a sign-and-trade deal.
These are projected values. If the Thunder use cap room, they'd renounce these exceptions and their TPEs and would only have the room exception ($4.9MM) available.
Salary and cap information from Basketball Insiders and RealGM was used in the creation of this post. Luke Adams contributed to this post.