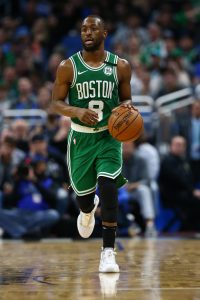 The Celtics will send Kemba Walker and a pair of draft picks to the Thunder in exchange for Al Horford, Moses Brown and a future pick, tweets Adrian Wojnarowski of ESPN.
Boston has been looking for a taker for the veteran guard, who has been injured for much of the two years he spent with the team. A recent report said former president of basketball operations Danny Ainge started shopping Walker after the Celtics were knocked out of the playoffs last summer.
The main incentive for Boston was to get rid of Walker's contract, which pays him close to $74MM over the next two seasons. He was considered an important addition when he signed a free agent deal with the Celtics two years ago, but a lingering knee injury limited his effectiveness. The 31-year-old missed 29 games this season and averaged 19.3 PPG, his worst scoring numbers in six years, while shooting just 42% from the field.
Walker's contract includes a 15% trade bonus that will be voided, according to Bobby Marks of ESPN (Twitter link). He would have received an additional $3.2MM if the trade had occurred after the league's new calendar year starts on August 6.
The Thunder will receive the Celtics' first-round pick this year, which is slotted at No. 16, along with a second-rounder in 2025. Boston will get OKC's second-round selection in 2023. The Thunder now have three first-round picks in this year's draft and five of the top 36 choices.
Horford returns to the Celtics two years after leaving for the Sixers in free agency. He spent one year in Philadelphia before being traded to Oklahoma City last December in a cost-cutting move. Horford never found a role on the rebuilding Thunder and played just 28 games before being shut down in late March after the trade deadline passed.
The 35-year-old big man was still effective when he played, averaging 14.2 points and 6.7 rebounds per night, and should be a welcome addition to the Celtics' front court. He will make $27MM next season and $26.5MM in 2022/23, but only $14.5MM of that year's salary is guaranteed.
Brown, a 21-year-old center, showed a lot of promise in his second NBA season, starting 32 of the 43 games he played and averaging 8.6 PPG and 8.9 RPG per night. He is under contract through 2023/24, but no money is guaranteed beyond this season.
Today's trade marks the first major deal for former coach Brad Stevens since he became the Celtics' president of basketball operations two weeks ago. Wojnarowski notes that it involves Thunder general manager Sam Presti, who has been a friend of Stevens dating back to when he coached at Butler (Twitter link). Woj adds that it's unusual for trades to take place before the pre-draft combine, but both sides were happy with what they got.