For the second time this season, OSU on Saturday came out on top after entering a contest as an underdog. The Cowboys overcame a double digit deficit to topple Texas, 32-24, showing their mettle with a strong finish and staying at the top of the Big 12 standings entering a difficult upcoming stretch of games.
The win wasn't particularly pretty but as the OSU golf team noted on Twitter: Scorecards don't have pictures. A dub is a dub. And OSU will take it given its slow start on the road against a really good Texas team.
So before we look ahead to the Iowa State game, let's look back one final time at the Texas tilt and hand out our own scorecard.
---
Coaching: A
Look, I don't want to spike the football on y'all here, but … what I wrote two weeks ago about this being arguably Mike Gundy's best coaching season of his career is looking prettay, prettay good. So excuse me for just one moment while I go full Gronk.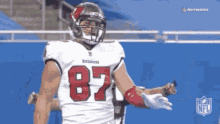 Saturday wasn't Gundy's masterpiece by any stretch. Some questionable clock management here. Some real predictable play-calling there. But, uh, OSU is 6-0 winning with defense. All we ask of Gundy is to be malleable — to shapeshift his team based upon strengths — and he and the coaching staff have done that all season. Even if it's not pretty it's working.
Running game: B
OSU could not get much of anything going on the ground in the first half. Heck, the offense couldn't really move the ball, as Texas' defense stood tall and predictable play-calling only worsened things. But, as has been the case this season frequently, the running game got better as the game progressed. It peaked in the fourth quarter when OSU needed it most, too, with Jaylen Warren accounting for 138 yards rushing in the fourth quarter alone.
Passing game: C+
At this point it seems OSU's passing game is destined to struggle each week. Maybe we should start grading on a curve. Either way, I think a C+ is a fair assessment of the passing game on the whole. Spencer Sanders had 178 yards passing on 19-of-32 with one touchdown and one pick in an up and down outing. He wasn't the biggest reason OSU won the game but he didn't lose OSU the game, either, effectively acting as a game manager while the running game stepped into the spotlight. I firmly believe better days are ahead for him. Even with OSU's offensive line struggling to provide adequate protection he found a way to overcome adversity and led the Pokes to a huge win.
Defense: A+
Texas recorded one yard in the fourth quarter.
One. Yard.
The Longhorns had some early success, sure, but Jim Knowles and the defensive staff made key adjustments and tightened the straps down in the second half when they needed it most. This defense remains the major strength of the team. And it came up with its most clutch performance of the season to date in the second half.
The post Grading OSU Football's Showing vs. Texas in Week 7 appeared first on Pistols Firing.