JULY 8: The complex five-team trade that will bring Brooks to Houston has been finalized, the Rockets announced in a press release. Brooks is being acquired in a sign-and-trade with the Grizzlies, and Houston will also receive the rights to forward/center Alpha Kaba from the Hawks and a pair of second-round picks from the Clippers.
The Rockets will send Christopher to Memphis, Usman Garuba, TyTy Washington and two future second-round picks to Atlanta, Kenyon Martin Jr. to L.A. and Patty Mills and three future second-rounders to the Thunder.
In a separate deal, Oklahoma City will ship Mills to Atlanta in exchange for Garuba, Washington, Rudy Gay and a second-round pick.
---
6:04pm: The Rockets will acquire Brooks via sign-and-trade, generating a trade exception for the Grizzlies, Wojnarowski confirms (via Twitter).
Sources tell Kelly Iko of The Athletic (Twitter link) that Houston is trading Josh Christopher to Memphis. Although Iko doesn't specify it will be part of a Brooks sign-and-trade, that seems logical.
The Grizzlies' trade exception for Brooks would be $11.4MM due to base year compensation rules, notes Yossi Gozlan of HoopsHype (Twitter link). If Christopher heads to Memphis in the deal, that TPE would shrink to $8.9MM, Gozlan adds.
---
5:20pm: The Rockets and Brooks have agreed to a four-year deal worth $80MM, agent Mike George tells Adrian Wojnarowski of ESPN (Twitter link).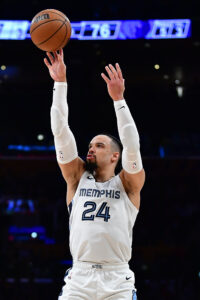 The deal will have a descending structure, tweets Wojnarowski. It will be fully guaranteed, with no player or team option, per Kelly Iko of The Athletic (Twitter link).
As with VanVleet, Houston's offer in order to secure a commitment ended up being for more years and more money than initially anticipated.
---
JULY 1, 4:35pm: The Rockets are close to reaching a contract agreement with unrestricted free agent Dillon Brooks, reports Shams Charania of The Athletic (Twitter link).
While Houston has the cap room necessary to sign Brooks outright, the team has been engaged in trade talks around the league, according to Charania, who says a sign-and-trade with the Grizzlies is a possibility if the Rockets reach a deal with the veteran forward.
Brooks was frequently linked to the Rockets in the days leading up to free agency. One report indicated that Houston was preparing to offer him a deal in the range of $14-16MM annually, while another stated the team had a meeting lined up for Friday or Saturday with the 27-year-old.
Brooks is a talented perimeter defender who earned All-Defensive Second Team honors this spring, but he has become an increasingly erratic shooter, making a career-worst 39.6% of his field goal attempts in 2022/23. His three-point percentage dipped to 32.1% on 5.6 attempts per game during the last two seasons after he converted 35.3% of 4.5 threes per game in his first four seasons, all with the Grizzlies.
On top of his offensive struggles, Brooks' outsized personality and aggressive playing style have gotten him into trouble both on the court and in interviews off it. He received three one-game suspensions this season, once for an on-court altercation with Cavaliers star Donovan Mitchell and twice for accumulating so many technical fouls.
Brooks ultimately wore out his welcome in Memphis, with a report after the season indicating that the Grizzlies didn't plan to bring him back "under any circumstances." His performance during the team's first-round loss to the Lakers was reportedly considered to be a breaking point. Brooks referred to Lakers star LeBron James as "old" following Memphis' Game 2 win, suggesting the NBA's all-time leading scorer was well past his prime.
He was then ejected from Game 3 for hitting James in the groin, surrendered a pair of key baskets to LeBron in a Game 4 loss, and was eventually fined $25K for declining to speak to reporters after three games of the series (all losses). Offensively, Brooks shot just 31.2% from the field and 23.8% on three-pointers across six playoff games.
A change of scenery could benefit Brooks, and the Rockets have reportedly been prioritizing tough, defensive-minded veterans under new head coach Ime Udoka. Houston has reached an agreement with Fred VanVleet and was said to be aggressive in its pursuit of Defensive Player of the Year runner-up Brook Lopez, who ultimately decided to remain in Milwaukee.