The Thunder have officially waived point guard Kemba Walker, the team announced today in a press release. The two sides agreed to a buyout earlier this week and have now finalized that agreement.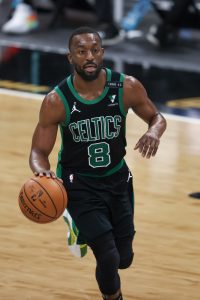 Walker, was limited to 43 games for the Celtics in 2020/21 due to knee issues, but put up strong numbers in the games he played, averaging 19.3 PPG, 4.9 APG, and 4.0 RPG on .420/.360/.899 shooting in 31.8 minutes per contest.
Oklahoma City acquired Walker from Boston back in June in Brad Stevens' first major roster move as the Celtics' president of basketball operations. Although that deal was considered a salary-dump, with the Thunder receiving a first-round pick for taking on Walker, a report last week stated OKC believed it might be possible to flip him to another team for an asset. Those efforts were ultimately unsuccessful.
The move will open up more playing time for the Thunder's young ball-handlers (besides Shai Gilgeous-Alexander), including Theo Maledon and Josh Giddey.
Walker, meanwhile, is now on track to clear waivers on Sunday, assuming the Thunder officially released him by 5:00pm ET today. Once he clears waivers, the veteran guard will sign with the Knicks.
Walker's deal with the Knicks will be a two-year contract worth about $8-9MM annually, as Ryan McDonough of NBC Sports Boston first reported earlier in the week. The four-time All-Star will join a Knicks backcourt that also features Derrick Rose, Immanuel Quickley, Alec Burks, and second-round pick Miles McBride.